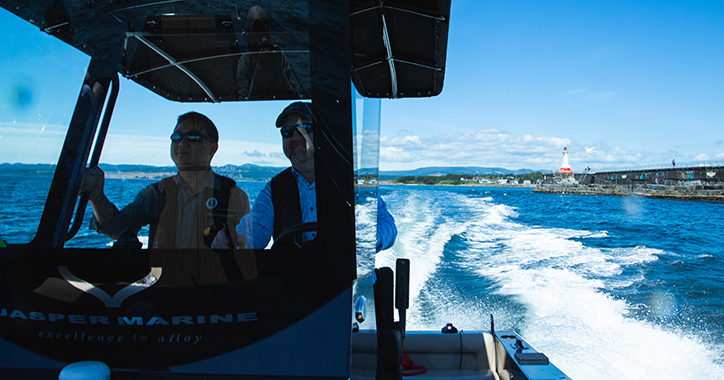 Kevin Smith, owner and operator of British Columbia-based Maple Leaf Adventures, selected shock mitigation seating for his adventure tour business both for passenger comfort and safety as well as his own. After spending nearly a decade as a training officer in the Canadian Coast Guard Auxiliary, the impacts from traveling at high speed on the water caused pain and injury to his back that he's paying for today...literally. "I spend thousands and thousands of dollars a year with chiropractors looking after my back," Kevin says.
Comfort wasn't the only reason Kevin chose two 3700 X8 helm seats from Shoxs. Running a busy adventure tour business doesn't leave much time for equipment repairs. "Everything has to work all day, every day," he says. He didn't want the added time requirement of adjusting, fixing, or repairing his seats on his Jasper Marine-built vessels. He says the Shoxs seat have now had a full season of hard use with no maintenance or repair, which keeps his operations running smoothly and his customers and employees happy. He says his team can "use, abuse, and forget about" the seats, because they just keep working.
Kevin visited the Shoxs factory during his boat build to inspect the seats and learn more about the testing and installation processes. He noted that everything was made in house, and felt confident that the level of in-house testing proved that the people in the seats were going to be safe in the kinds of rough conditions that his boats would encounter. "They had a passion that became really evident. They wanted to be the best shock mitigating seats there were," he says after meeting the Shoxs team.
He says he looked at other shock mitigating seats, but he appreciated the rugged construction and quick dry fabric in the Shoxs seats, which comes in handy during rainy weather or a rough ride.

"Shoxs fit the bill perfectly," he says. "They're just solid performers."