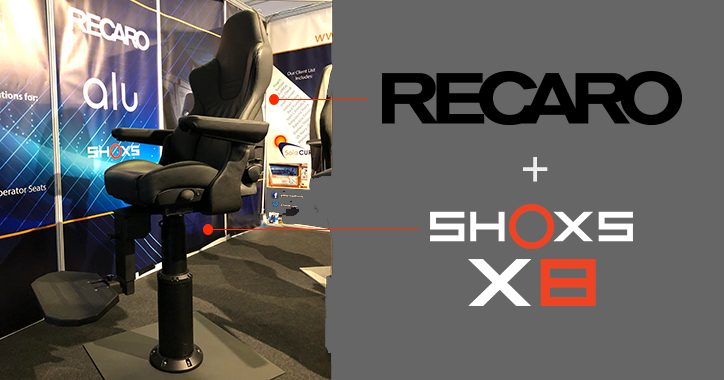 Fishing boat skippers spend very long hours at the helm, often in extremely bad weather. Crown Marine Seats, a UK-based supplier of premium boat seating, and SHOXS have introduced a seating solution to keep skippers safe and comfortable in rough seas. A unique combination of a RECARO luxury skipper seat and a SHOXS X8 shock mitigating pedestal results in a seat built for fishermen or anyone who spends long days on the water, complete with sporty, dynamic design, outstanding ergonomics, and the latest marine shock-mitigation technology.
The seat, a RECARO Maritime Northsea, has an integrated headrest, an adjustable backrest and lumbar support, and can be mounted on a shock mitigating pedestal with 8" of suspension travel and height adjustment to ensure optimal sightlines at the helm, no matter the size of the occupant. The seat is available in leather or fabric, with or without a four-point belt. The X8 pedestal is crafted from anodized aluminum, and is designed with no pinch points.
The comfort of the RECARO seats is well-known within the local fishing fleets, and the addition of the SHOXS suspension pedestal adds another level of safety and support during long days on the water. The modern design with excellent side support makes this seat a best seller as crew seating for High Speed Craft and has proved very popular as a traditional skipper seat in the UK and Scandinavia.
The RECARO Maritime Northsea in leather and SHOXS X8-HA will be exhibited in the Brødrene Hukkelberg booth at the upcoming DanFish Exhibition in Aalborg, Denmark in October and this will be the first chance for skippers that endure the rigors of fishing in the North Atlantic to evaluate this exciting combination from two of the world's leading manufacturers of professional marine seating.