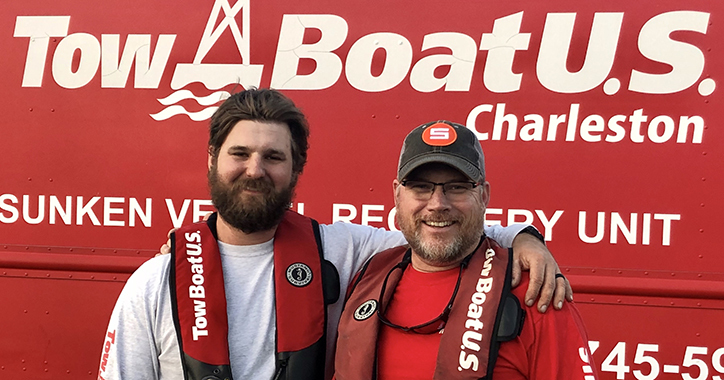 For Joe Abeyta, running a TowBoatU.S. division is a family affair. Joe, a 24-year veteran of the United States Coast Guard, and his brother Thomas Griffin, a Merchant Marine with a 1600-Ton Master license, along with their wives, Layla and Kirsten, run Allwater Marine Services, a fifth generation family-owned business in Charleston, South Carolina.
The company acquired the TowBoatU.S. Charleston brand in December 2019.
The TowBoatU.S. fleet of bright red service vessels runs constantly, especially during warm weather. "The summer season in Charleston can be grueling, which is why SHOXS seats are so important for our captains during long days and offshore tows," Joe says.
His captains handle on-water towing, ungroundings, marine salvage, battery jumps, and fuel deliveries, and the amount of boating traffic in this popular destination has them on the water 24/7 every day of the year.
Joe and Thomas recently installed a SHOXS 3200 X8 shock mitigating seat at the helm on "Ruby," their SAFE boat, and are planning to outfit the rest of the fleet soon.
He says about the seating: "SHOXS seats' unmatched quality gives us the comfort and longevity to go the extra mile and get the job done. It really helps us stay in the boat longer and more comfortably."