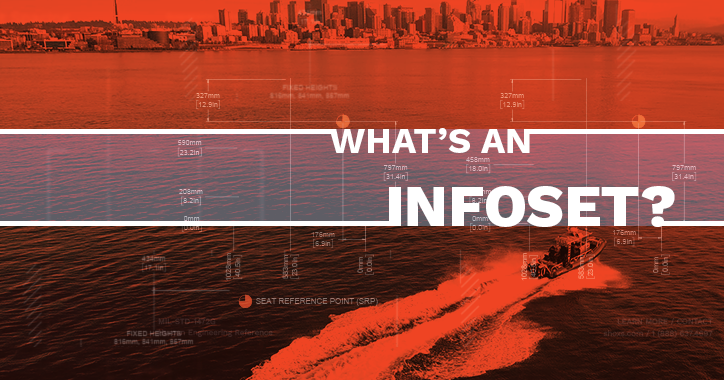 What is a SHOXS Infoset and why should I use one? You asked, we answered.
When planning any new boat build involving shock mitigating seats, there are number of questions that likely need answers. How many seats will fit at the helm, and how much space should be between them? Can the occupant see over the console? Will the driver's knees hit the dash?
A SHOXS Infoset starts to answer some of these basic questions, and points the design of the helm and suspension seating system in the right direction. The Infoset, at its most basic definition, is a technical drawing package that helps engineers, designers, or naval architects get a sense of the overall footprint of the seat, the recommended console configuration, and basic ergonomics of the seated occupant.
A SHOXS Infoset typically includes:
Overall seat dimensions and weight
Occupant center of mass data
Sightlines for occupants in the 95th and 5th size percentile
Console Ergonomics
Seat Spacing
An Infoset isn't a substitute for a detailed engineering drawing of your specific boat project or seating arrangement, but it's a logical place to start for understanding general spatial constraints, sightlines, and ergonomics. Marine suspension seating systems are often uniquely purpose-built for the application at hand. Once options and accessories are specified, one SHOXS seat model can have wide variations in appearance and functionality than the same model with different options selected. An Infoset typically will not include options or accessories, so be sure to contact SHOXS for your specific requirements.
After the initial task of defining the overall space and suspension seating requirements, the next steps are more detailed: determining the placement and spacing of the seat arrangement, and developing the console design that best suits the occupants and intended usage. The SHOXS technical team can then develop project-specific models or drawings to illustrate a more precise configuration.
Contact us to learn more about the process of selecting and designing for shock-absorbing seating - we've offered technical assistance and design guidance on countless boat builds for all types of applications. We take the time to listen, understand and respond with functional arrangements that help you accomplish your goals. The Infoset is a valuable resource as a first step, but we've also got an expert team at the ready to help you deliver a safe, functional vessel that best fits your mission.

Find SHOXS Infosets online at shoxs.com/downloads, or on the "Downloads" tab of each SHOXS product page.