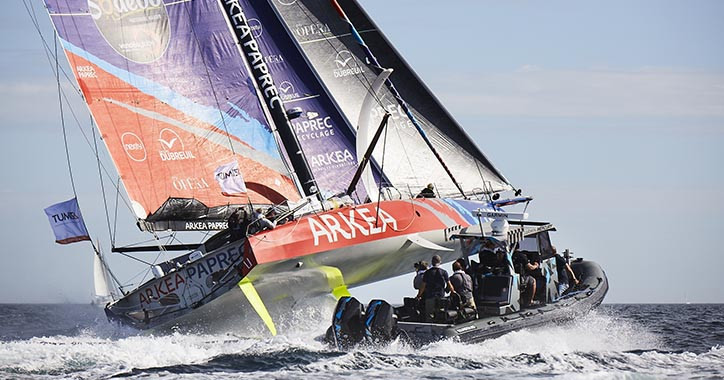 The Azimut Challenge is a 48 hour offshore sailing race leading up to the "Holy Grail" for solo sailors, the Vendée Globe. The Vendée Globe is the only non-stop, unassisted sailing race around the world on 60-foot International Monohull Open Class Assocation (IMOCA) sailboats. Setting sail from Les Sables d-Olonne, France every four years, it is a popular race that appeals to young and old alike with attendance of more than 2 million visitors.
Naturally, such exceptional international events require nonstop journalistic and media coverage. Members of the press, following the racers in small chase boats, are subjected to high winds and waves as they attempt to steady their cameras to capture the action.
Nico Beaufrere transports journalists and photographers offshore during international sailing races like the Azimut Challenge and the Vendée Globe using his high-speed RIB as a chase vessel. To ensure their comfort, safety, and most importantly, performance, he equipped his boat with Allsalt Shoxs 5000 series jockey-style impact mitigation seats in the cockpit. The internal air shock with 8 inches of suspension travel mitigates the wave action and provides a smoother ride for passengers, especially while capturing photos and video footage.
At the helm, Nico's boat has a pair of Shoxs 6300 seats that attach to a bulkhead. The seats feature a flip down seat base to quickly transform it into a standing bolster, allowing more room to navigate from a standing position, or quickly move around the boat.

"The journalists appreciated the high quality of the seats during the Azimut Challenge, and they were comfortable and happy during long days offshore," Nico says. "It made their jobs easier and they weren't worn out at the end of the day from a rough ride."