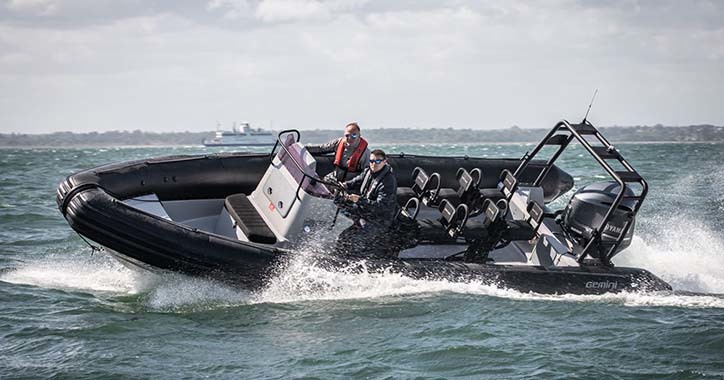 Put our seats to the test and see why maritime agencies around the world trust SHOXS to protect crews and extend careers on the water. We plan to exhibit our latest impact-mitigation technology and provide on-water demos at this year's Defence and Security International (DSEI), the world's leading event for governments, national armed forces and industry. Berthon Boats will display a Gemini Wave Rider 780 RIB outfitted with eight SHOXS 5000 series seats.
On the water, the 7.8 meter stepped-volume monohull RIB is unsurpassed for soft ride, dryness, and safe predictable handling. Combined with shock-mitigating seating, crews remain safer and more protected from wave impacts at high speeds.

The high-density seating arrangement allows front and rear-mounted seats to secure to a common structure, while each seat remains independently suspended on its own isolator (shock). The design is well-suited for open RIBs where space is at a premium and weight is a factor. The tandem seats are deck mounted using the SHOXS TRAXS system, which allow seats to be easily re-positioned or removed to create more deck or occupant space, maximizing the safety and efficiency of critical "at sea" deck and seat configuration changes.

The SHOXS 5005/5105 combines a low maintenance front mounted seat with a folding rear-mounted seat to create a compact solution for use in high density layouts.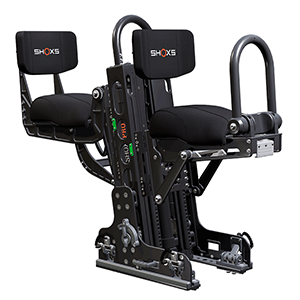 The SHOXS 5605/5105 combines front mounted and rear mounted saddle-style folding seats that allow maximum space to move about the cockpit when seats are stowed in place. Each seat uses a 254 mm (10 inch) air isolator, purpose-designed and tested to provide protection to the coxswain and crew from unpredictable wave impacts while traveling at high speeds.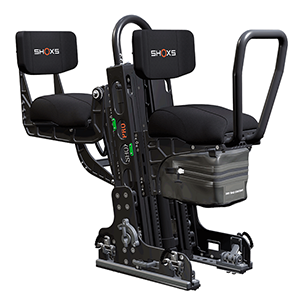 The Gemini RIB will also take part in the live waterborne demonstration twice daily during the show - don't miss this exciting display of technology in action!


Contact us to book a demo, or visit us on the SHOXS stand S9-265 for more information and directions to the berth.

Show information
DSEI 2019
10-13 September, 2019
Excel, London
SHOXS Stand S9-265