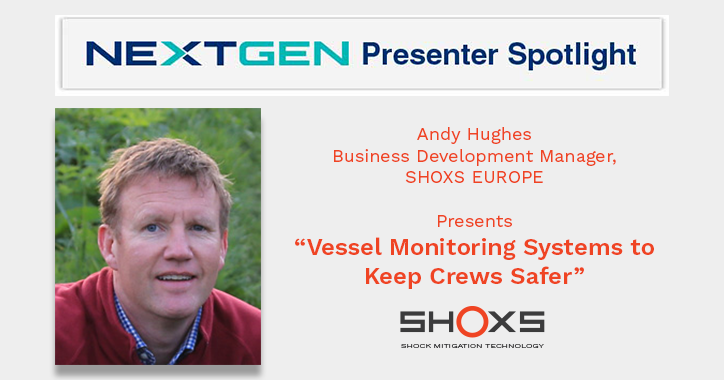 SHOXS is pleased to support NEXT GEN 2019, an international maritime industry exchange combining technical presentations with dynamic panel discussions. The sessions bring together an international group of 25 experts armed with the latest knowledge to identify challenges and highlight potential solutions within the worldwide maritime sector. Focused on high-speed professional watercraft in the under-24 metre sector, this unique program of one-day safety workshops is being held at the Grand Harbour Hotel in Southampton on April 2-4, 2019.
NEXT GEN Shock Mitigation Solutions on April 4th focuses on managing the risk of operating planing craft in waves. Extreme applications have driven rapid development and solutions are now becoming available for lower speed vessels. Andy Hughes, Business Development Manager for SHOXS Europe, will present "Vessel Monitoring Systems to Keep Crews Safer."
Andy's presentation focuses on the growing trend of 'smart' technology for professional watercraft and why maritime agencies should consider systems that provide real-time monitoring data on boat and seat performance. The discussion will highlight new methods to manage whole body vibration with a data-driven, proactive approach to reduce the risk of injury on the water.
Hughes has worked within the military boats sector for much of his professional career. An engineer by training, he built, tested, and delivered craft at RTK Marine, which then transitioned into VT Halmatic, and eventually to BAE Systems. He joined the SHOXS team in 2015.
NEXT GEN Workshop Lead John Haynes said, 'To meet the changing requirements of modern fleets, smart organisations and specialist equipment manufacturers now need to work together to blend traditional safety methods with innovation. We are really pleased to have the support of SHOXS and the expertise of their team at NEXT GEN 2019.'
NEXT GEN Workshops are relevant to workboats, pilot boats, patrol, search & rescue, survey, wind farm support, superyacht tenders, training and charter vessels. Attendees include commercial operators, professional organisations, boat builders, equipment manufacturers and service providers.