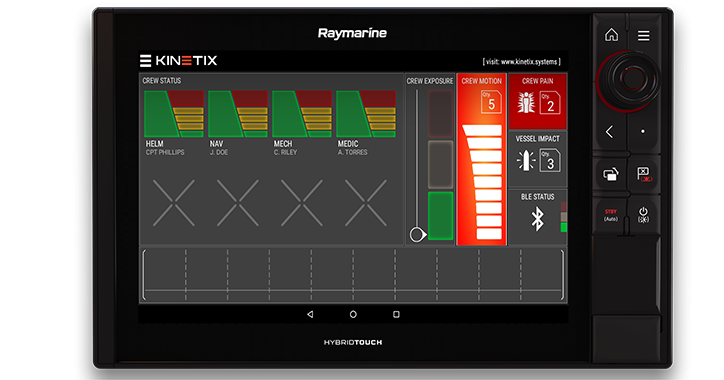 Allsalt Maritime, owner of the Shoxs and Kinetix product lines, has partnered with leading electronics manufacturer Raymarine to integrate Kinetix monitoring systems with the popular Axiom multi-function display (MFD).
For vessels installed with Shoxs shock mitigating seating, Kinetix is an optional software that alerts vessel operators of harmful wave impacts through a console display, providing a visible indication of risky conditions. The software will caution vessel operators of potential hull damage or passenger injury, allowing them to slow down, choose a different route, or reposition passengers or gear.
The Kinetix software is now available as an application on the Raymarine LightHouse App store, giving operators an easy way to view alerts directly through their existing MFD without having to install or manage a second screen.
The display can alert drivers to many data points so action can be taken to mitigate risk of damage or injury:
Crew exposure to harmful wave impacts
Alerts when hull exceeds impact allowance
Impact history showing previous wave impacts
Suspension seat travel and bottom-out alerts
The Kinetix application can be downloaded from the Raymarine online app store, and can then install on the on-board system via a microSD card.
The Kinetix application is dependent on having the Kinetix shock monitoring system installed on the vessel or seating systems, and is available for Axiom and Axiom Pro MFDs running on LightHouse 3.
Download Kinetix on the Raymarine App Store.